Buy Your Next Home Before Selling Your Current Home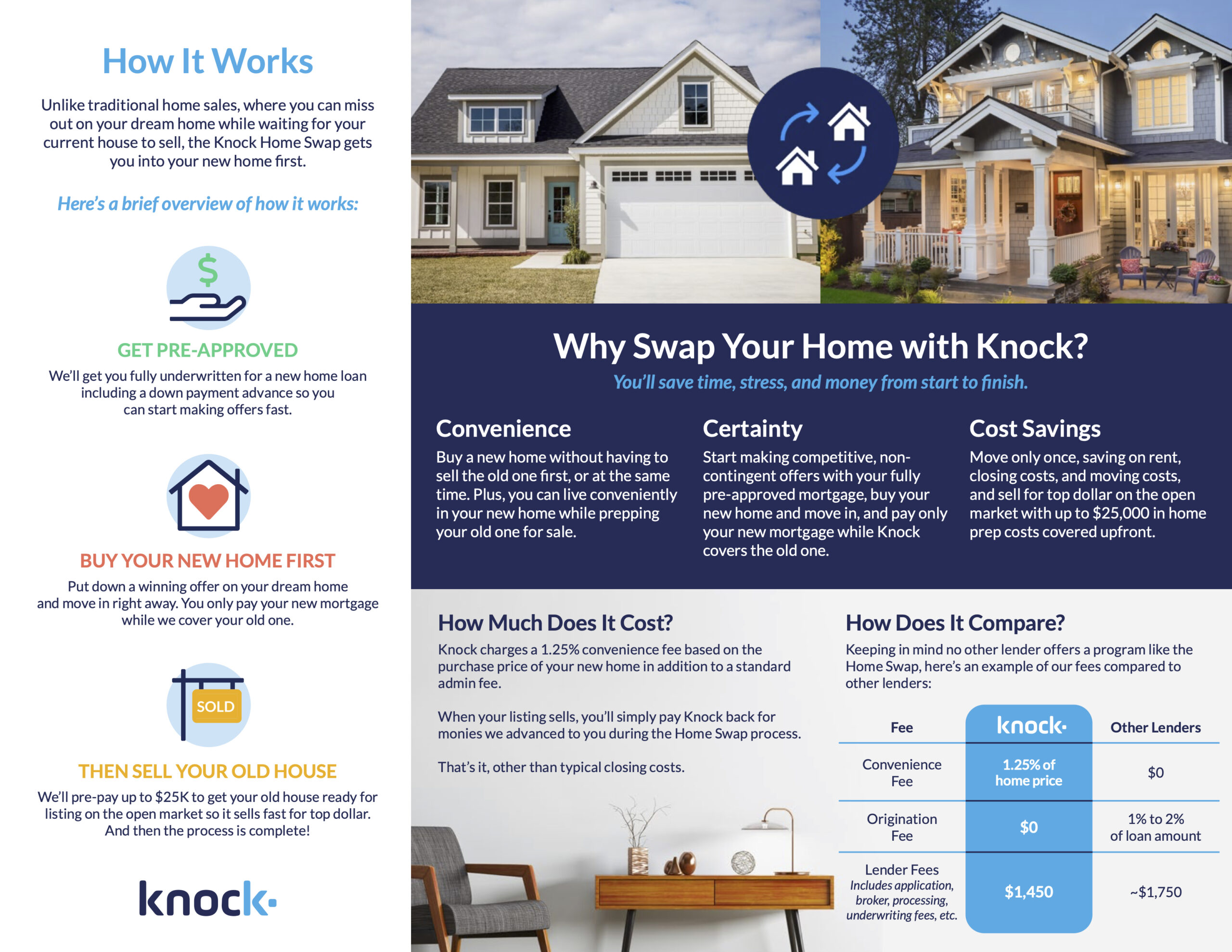 Find out if you're eligible for a Knock Home Swap
Contact us at (720) 277-9001
Your Knock Certified Realtor
Innovation
The Knock Home Swap is one of the most innovative methods of Selling and Buying real estate, and the cost is minimal. And, when all cost savings are factored in, it may be the lowest cost method of selling and buying a home.
It is essentially a bridge loan but with extra perks.
Here's how we do it:
Meet with your Knock Home Swap advisor (me)
Qualify your current home
Get approved with Knock
Work with your Realtor (me) to find your next home
Purchase your next home using the funds advanced by Knock
Move out of your current home and move in to your new home at your leisure
Get your old home ready for sale, or have someone else get it ready
Your Realtor (me) will get your old home sold
Knock gets paid for any funds that they advanced to you, your Realtor gets paid for selling it, and you keep any appreciation in value.
The lender (Knock) will advance the major part of your current home's equity to you to use as an earnest deposit payment on your next home. You can purchase that next home as a non-contingent Buyer, which means that you are not dependent on the sale of your current home, and the Seller will look at your proposal more favorably.
After you complete the purchase of that next home and have moved in, we will start marketing your current home for sale. You may even be eligible to receive up to $25,000 in fix-up expenses to make the home more appealing to buyers.
During this marketing period you will only be making one mortgage payment, not two.
Once the previous home is sold you will receive the full sales price, less the real estate commission (no markup), less the fix-up expenses if any, less the payoff of the previous mortgage if any, and less a 1.25% service fee to Knock. The fee is overwhelmingly offset by the fact that you never have to put up with showings, and you only need to move once.
Advantages:
You don't have to put up with showings, keeping it clean and inconveniently leaving for a couple hours
You only move once
You only make payments on one mortgage
It's so much more relaxing and stress-free
Here is a video about the Knock Home Swap:
Contact us at (720) 277-9001
Your Knock Certified Realtor
Contact us for more information about the Knock Home Swap